DISCLAIMER: LINKS IN THIS POST DO NOT INCLUDE ANY AFFILIATE/REFERRAL LINK NOR DO WE RECEIVE ANY COMPENSATIONS FROM THE APPLICATION. THE AUTHOR OR OUR BLOG HAS NO BUSINESS RELATIONSHIP WITH U.S. BANK.
Update:2:30am EST MAY. 1st. Just got instant approved after submitting another application. TU was pulled.  Also, several DPs show that instant decline won't incur a hardpull on your report.  As this card is officially public, feel free to apply on U.S. BANK website.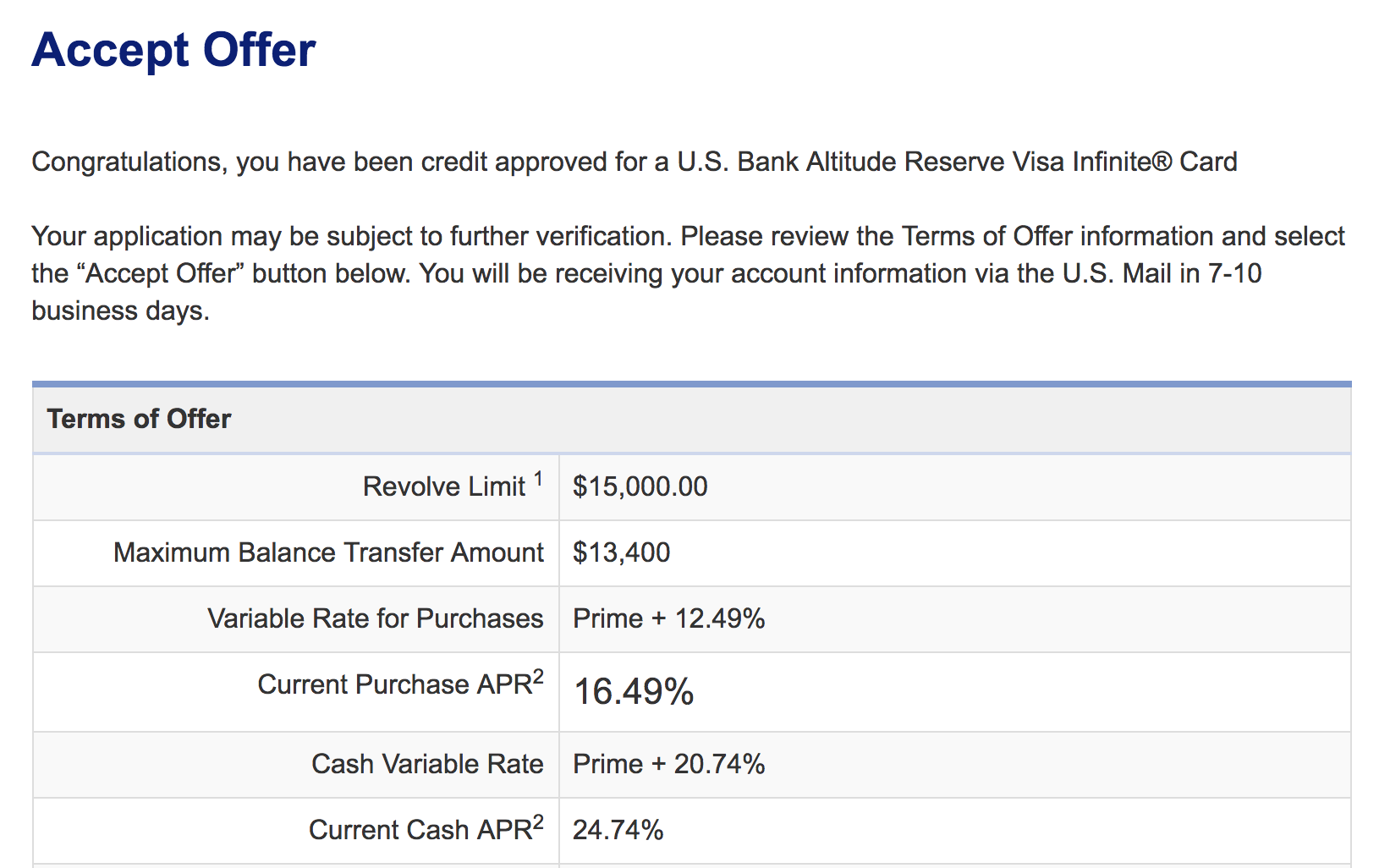 Not so long ago, we've introduced some rumors about this amazing premium card , such as the low effective annual fee, automatic annual travel credit $325, etc.
Today, I just got the information from a local bank, which provides almost all the details. Let's see what benefits we have here :
U.S. Bank Altitude Reserve Visa Infinite® Card
Signup Bonus:
Customers can earn 50,000 points after spending $4,500 in eligible net purchases within the first 90 days of account opening. This is a one-time enrollment offer worth $750 in travel. And currently no targeted higher signup bonus is available.
Annual Fee:
The annual fee is $400 for the primary cardmember and each additional card is $75 annually. The cardmember can redeem 35,000 points to offset the cost of their annual fee plus any additional card fee(s).
Prerequisites for application:
Altitude Reserve is exclusively offered to U.S. Bank customers who have an eligible consumer U.S. Bank account relationship open a minimum of 35 days prior to submitting an application. You must be a U.S. Bank customer in order to be approved for this card.
Eligible consumer U.S. Bank account relationship means: The Checking or Savings account, Certificate of Deposit, Mortgage, Home Equity Loan, Home Equity Line of Credit, Auto/Boat/RV Loan, Personal Loans and Lines, Private Banking account or Consumer Credit Card issued by U.S. Bank.
However, if you are a new customers of US Bank, you can still get this card, but have to apply in branch and ask the banker to call the underwriting to validate that you're a new customer.
Also the minimum credit limit for approval is $5000.
How to Apply:
May. 1nd, you can go to a local branch to apply. It's currently available only via direct application, and no product conversion is allowed. In the future, the product change may be allowed, and flexperks can be transferred to Altitude points with 1:1 ratio.
>> Application entrance <<
Alternatively, you can reach out to your Card Specialist,Card Sales Support Manager or Altitude Banker Support Team (866-951-0215) with questions, or directly call the enrollment center 1-800-477-3893
You can check application status during business hours after 8am CST by calling 800-947-1444
Benefit
Spending:
Travel: Earn 3X points per $1 for eligible net travel purchases made directly with airlines, hotels, car rental companies, taxis, limousines, passenger trains and cruise line companies.

MCC 4121 Taxicabs count as travel
MCC 7011 Lodging – Hotels, Motels, Resorts, Central Reservation Services count as travel
MCC 4722 Travel Agencies, Tour Operators don't count as travel
MCC 6513 Real Estate Agents and Managers – Rentals don't count as travel

Mobile wallet: Earn 3X points per $1 for eligible net mobile wallet purchases when using the Altitude Reserve card with your mobile device to pay through Apple Pay,® Android Pay,™ Samsung Pay and Microsoft Wallet, wherever they can be used in-store, in-app or online. (sorry I forgot to include this very important information when first posting)
All other purchases: Earn 1X point per $1 spent on all other eligible net purchases
No foreign transaction fees for purchases made in foreign currencies. The points never expire.
Points redemption and value:
Points can be redeemed for travel as well as gift cards, merchandise, entertainment, cash back, magazines and more, starting at just 1,000 points.
Has a rich point value when customers redeem for travel: 1 point is worth 1.5 cents when redeeming for travel. 10,000 points are worth $150 in airfare, hotel stays, car rental or other travel awards
Travel Benefits
Travel credit

: Account holders can earn up to $325 every cardmember year in automatic statement credits for travel purchases made directly from airlines, hotels, car rental companies, taxis, limousines, passenger trains and cruise lines.  A corresponding statement credit will be applied to the account the next time it cycles. This is the richest travel credit among Premium rewards cards. (like Chase sapphire reserve, Amex Platinum, Citi Prestige, JPM ritz carlton, etc)

Gogopass

: 12 complimentary inflight Gogo Wi-Fi access passes per year, the same benefit provided by US BANK Flexperks travel rewards Visa signature

Priority Pass Select

: Only one PPS membership card per account, and only first 4 accesses are complimentary with one additional guest, afterwards, it's not free.

TSA-Pre

: Up to $100 statement credit to reimburse for either a TSA PreCheck® or Global Entry application fee — whichever program the cardmember applies for first, once  every 4 years.

Silver car discount

: Rent an Audi A4 with no lines and no paperwork from airport locations in select cities. Receive up to 30% off rentals of two or more days when using an Altitude Reserve card.

GroundLink® Black Car Service

:Enjoy reliable, comfortable chauffeured car service that's available in 110 countries. Customers using their Altitude Reserve card receive 15% off, and $30 off their first ride.

Relais & Chateaux Boutique Luxury Hotels

: Accelerated access to the Club 5C loyalty program after just two nights.

Club 5C benefits that include room upgrades, personalized services and invitations to exceptional cultural and culinary experiences. A complimentary breakfast daily at approximately 120 participating properties.

Andrew Harper Travel Club

Receive complimentary membership in this legendary travel organization, with access to seasoned travel planners who can provide expert guidance to create a more personalized travel experience.

James Beard Celebrity Chef Tour

Exclusive benefits for James Beard Celebrity Chef Tour dining events in cities around the country. Benefits include pre-sale access and $60 off per person per event.

NetJets® Private Aviation

: The ultimate convenience of private aviation becomes more affordable with complimentary flight time and aircraft upgrades from NetJets. Cardmembers can also redeem points for flight time.

Visa Infinite Luxury Hotel Collection
Purchase and Travel Protection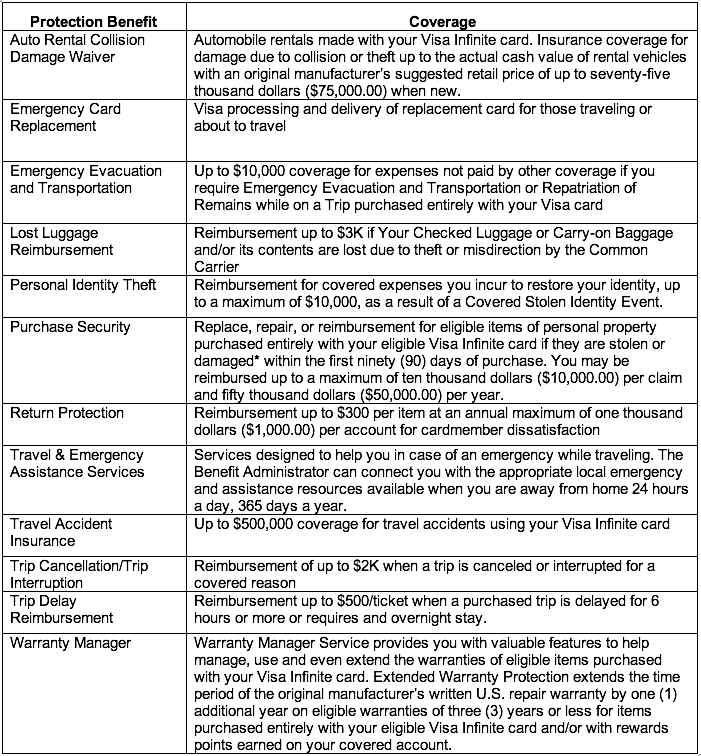 The good thing is delay protection is kind of like chase sapphire reserve , 6 hours or overnight delay could get you up to $500 reimbursement. And I'm not sure the CDW is primary or secondary,  considering the City National bank crystal visa infinite card provides Primary CDW for rental, this might be primary as well. (Chase Sapphire Reserve, Ritz carlton visa infinite and JPM reserve provide primary CDW not because they're visa infinite card but they're Chase Premium Card.)
Conclusion

The Altitude reserve visa infinite metal card, with an annual fee of $400, and $325 travel credit, is definitely a no-brainer even without other perks, such as 12 annual gogo wifi passes, low-end PPS membership, silver car discount, TSA pre reimbursement, etc.
And what makes it too good to be true is the mobile wallet spending bonus 3x, unlimited. Plastiq, Radpad for utility, and think about all things you can do with mobile pay,  you can get 3x and 4.5% if redeemed in travel category.
Again! It's the no-brainer.