Amazon Cash作为一种新的线下实体店充值方式,正在被Amazon慢慢推广。目前Amazon又推出了新的促销活动。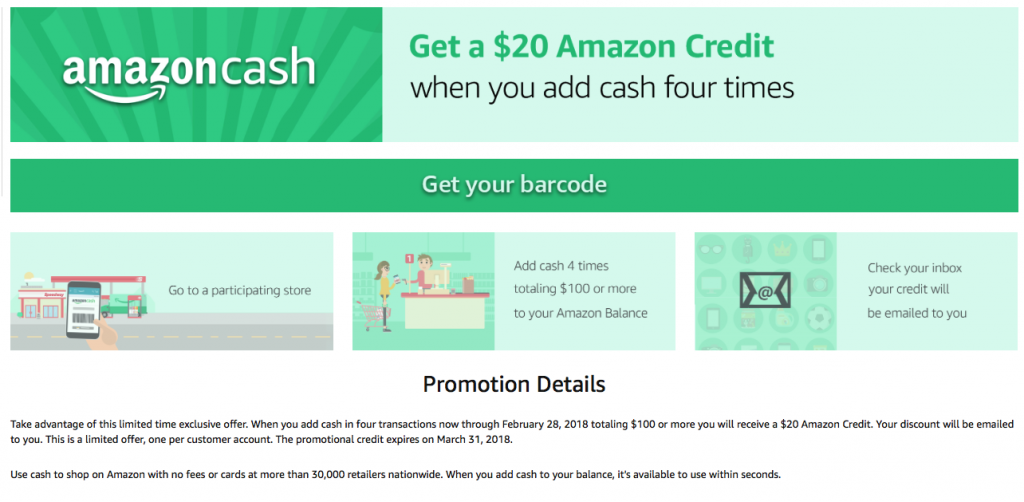 【活动时间】
2018年1月1日12:01 am (PT) 至 2018年2月28日11:59 pm (PT)
【活动网站】
https://www.amazon.com/cash
【活动内容】
在Amazon合作商家扫描你的专属Amazon会员条形码,充值四次,合计$100,可以获得$20 Amazon Credit,此$20必须在2018年3月31日之前使用。过期无效。
Amazon cash充值商家

【活动条款】
Four separate Amazon Cash transactions totaling $100 or more in the aggregate must occur between 12:01 am (PT) on January 1, 2018 and 11:59 pm (PT) February 28, 2018.
Offer only applies to products and digital content sold by Amazon.com or Amazon Digital Services LLC (look for "sold by Amazon.com" or "sold by Amazon Digital Services LLC" on the product or content detail page) and all eBooks made available through Amazon.com. Products and digital content (except for eBooks) sold by third-party sellers or other Amazon entities will not qualify for this offer, even if "fulfilled by Amazon.com" or "Prime Eligible".
Digital content and services may only be available to customers located in the U.S. and are subject to the terms and conditions of Amazon Digital Services LLC.
Shipping charges and taxes may apply to the full value of discounted and free promotional items.
Offer limited to one per customer and account.
The maximum benefit you may receive from this offer is $20 off products sold by Amazon.com.
You will receive an e-mail from Amazon that indicates the dollar amount of the promotional code. The e-mail will also provide instructions on how to redeem the promotional code.
Promotional credit expires at 11:59 p.m. (PT) March 31, 2018.
Amazon reserves the right to modify or cancel the offer at any time.
Offer is non-transferable and may not be resold.
Offer discount will be allocated proportionally among all promotional items in your order.
If any of the products or content related to this offer are returned, your refund will equal the amount you paid for the product or content, subject to applicable refund policies.
If you violate any of these terms, the offer will be invalid.
Unless an Amazon Gift Card is the stated benefit of the promotion, promotional codes (including those placed directly in accounts) may not be redeemed for Amazon Gift Cards.