Our blog TravelAfterWork previously published a serials of posts on how to using miles to all these phenomenal islands for honeymoon. All these are superb, premium and one of a kind destination for honeymoon including Hawaii,Maldive,Australia,Fiji and Bali. The cash price to all these paradise can be extremely expensive. Miles/Points/Rewards from different airlines/credit cards are the shortcut path for you and your family to enjoy once of life experience.
We just initiate a whole new project to show you the whole world step by step and city by city, surely using miles. Please leave any feedback and tell us where is your dream destination.
TAW World Tour —— London

(pic www.sixt.co.uk,will delete if informed of the copyright)
London is definitely one of kind city that everyone would fall in love with. Grab a coffee wondering at River Thames, pass through all the historical streets to the world of Newton, Shakespeare, Charles Dickens, etc. All the history and stars built up London to be the one of world center. Considering we could travel from different cities, New York-NYC, Oklahoma City-OKC,Los Angeles-LAX as the three representatives.
There are several basic rules when we summarize and analyze the routes and required miles to London.
Prefer direct flight, short flight, try to avoid transferring from the third country since it might raise Visa conflicts and long transfer time.
Only list three airline miles which need the fewest miles.
Part I. Route Analysis
From continental US to London, the direct route only could be carried by American Airline [AA], United Airline [UA], Delta [DL], British Airways [BA], and Virgin Atlantic [VA]. As the major gateway city of US to Europe, NYC has more than 25 direct flights to London. LAX also has direct flight to London. OKC, as all other small cities, needs to fly to airline hub cities. The ultimate goal of this post is to help figure out what is the best airline miles we should use since AA/UA/Delta/BA/VA all have great amount of partners. For instance, if you can redeem Japan Airline Mileage Bank mile for AA tickets.
Besides the world famous airport Heathrow Airport [LHR], there are another two airports, Gatwick Airport [LGW] and London City Airport [LCY]. All AA/UA/Delta directly fly to LHR. Some Europe low-cost carriers utilize LGW, such as Aer Lingus and Norwegian. Ou discussion will focus on LHR.
Using mile to London is one of the headache routes since LHR charges incredibly high airport construction fee and British Airways is notorious for charging over priced oil surcharge for BA Avois Redemption and her parters for international flights. Even BA Avios is a fantastic source to redeem for US domestic flight since BA does not charge AA domestic flights surcharge. For transatlantic route, the surcharge can be extremely high, 400-500 dollars for economy, above 1200 for business cabin.
For the airport construction fee, LHR only charges the outbound flights, not the inbound flights. It will be quite cost-saving if you land at London, and fly back from another EU countries if you plan visiting multiple European counties.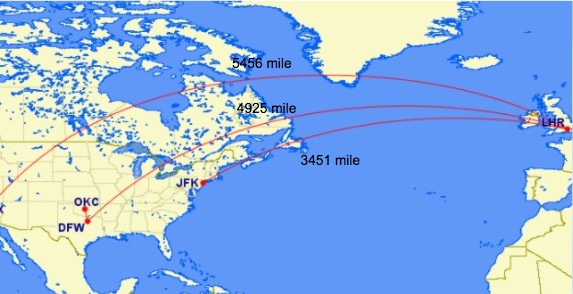 Part II. Required Miles Analysis from Different Airline Elite Program
We list the Mile Program which we can redeem, the cash value per point for the mile program, and which alliance it belongs, is it a distance or zone – based program, the required amount of mile, oil surcharge, and the actual air will take us to London, the annual average cash price for the same route to London, and how much does the mile worth.
For instance, from NYC to London in economy, it will need 39,000 JAL Mileage Bank miles. JAL mile is considered to be high value with a average of 2.0 cent/points and it only could be transferred from SPG. The surcharge will be around 173 dollar for round trip. The actual carrier will be AA. The annual average cash price from NYC to London is around 700 with a range from 500 – 900. The last column is the mile value. If we spend 39K JAL mile plus 173 dollar surcharge, the total mile value is 953. It will be higher than the normal cash price which indicates this is not a preferable redemption. We also include the Business Cabin comparison.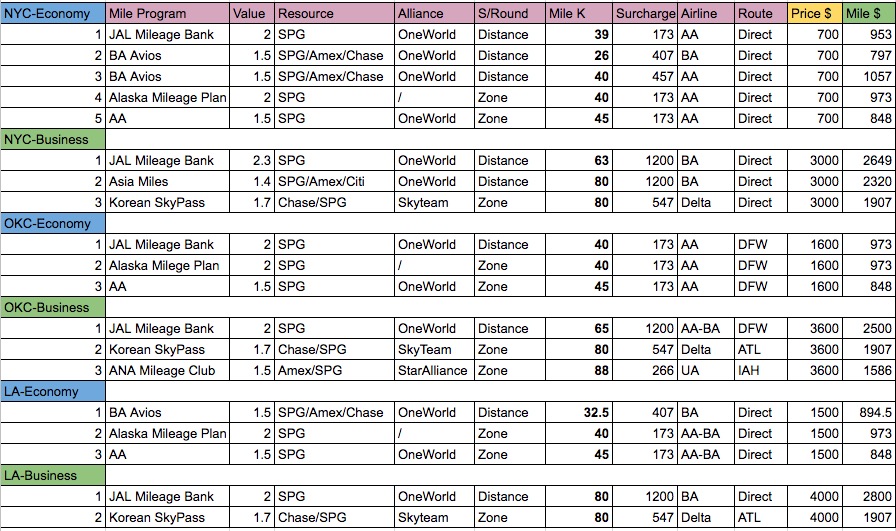 Part III Best Route/Redemption Analysis
NYC-LHR
As discussed before, if we use JAL mile to redeem AA economy class from NYC to London, the total mile value is 39K*2.0 cent/point+173 = 973. If using BA, BA Avios can be transferred from Chase Ultimate Rewards and SPG, so the point value is around 1.5 cent/point, so the actual mile value is $ 797. We summarized the cash price for the tickets and equivalent mile value in the last two columns. Therefore, we can easily to compare which is the best option, directly purchase a ticket or redeem miles?
As the major gate city to Europe, there are so many routes from NYC to London. The cash price is very competitive and could be low to 500-600 dollars. So it is better to purchase the ticket instead of using miles. For business class, the cash price is really high, so we better use miles to redeem. Especially, for Korean SkyPass, it will only cost us 1907 equivalent dollars, but we get a more than 3,000 dollar tickets.
OKC-London
OKC here can actually represent most of small cities which need at least one domestic transfer to airline major hub. The required miles for different cities might be different for JAL since it is distance based. From small cities to London, the airline ticket cash price is 1600 dollar. This price is retrieved from google flight trying to represent the yearly average. It will be different from the normal price. So it will a good choice to redeem miles, for instance AA. It is getting even better for Business class, for instance, it only cost you equivalent ANA 1600 dollar to redeem a 3000 dollar cash price ticket.
LA-London
JAL is based on distance, so LA-London falls off JAL sweet spot. The cash price is also pretty high because of the long-haul. It only cost equivalent 848 dollar AA miles for economy class and 1907 dollar Korean SkyPass miles for an incredible 4000 dollar tickets.
Summary
The best way to decide using mile or paying cash is to compare since miles also have their own currency. But in reality, there are multiple ways to accumulate miles such as Sign-up bonus. And the tendency for miles is devaluation. Airline companies are constantly changing their redemption policy to alter the value of points. 99% of time is devaluation. So why use miles to enjoy life right now?
LHR airport only charges insane construction fee to outbound flight. Not to inbound fight.
BA charges high oil surcharge to BA as well his partners at transatlantic routes, such as AA.
For USA small cities or any non-hub cities departure to London, AA-economy and ANA redemption for business would be the best choice.
Departure from NYC, business class is worthy choice.
From LA, Korean SkyPass is the best choice for business and AA is the best for economy.