今年上半年达美曾经推出过此类公开活动,不过这次是targeted的活动了。只有收到邮件的达美常客号才能参与此次活动。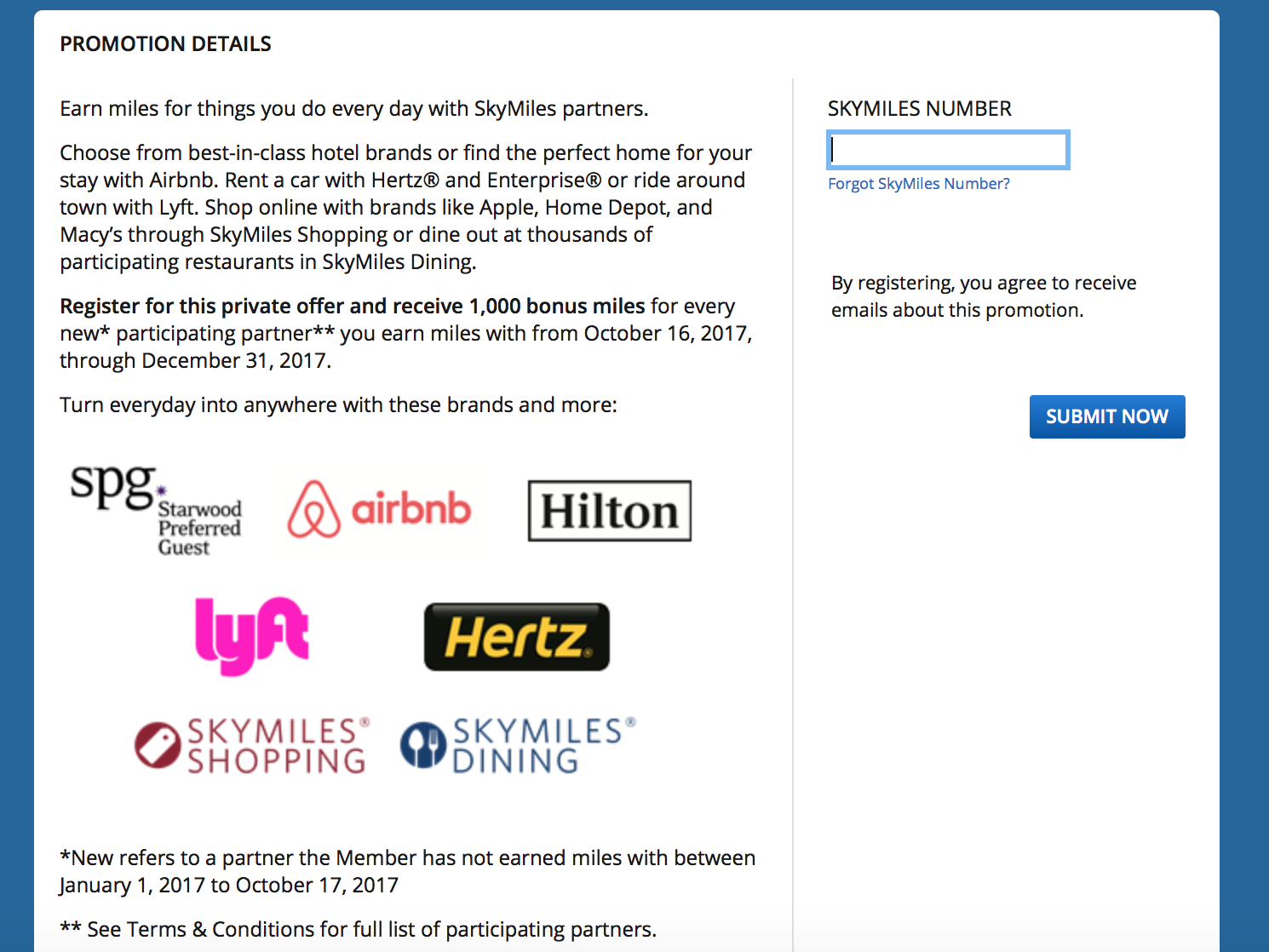 【活动内容】
即日起至2017年12月31日,只要在达美航空 [DL] 的任意合作伙伴消费:航空、宾馆(包括airbnb)、租车、邮轮、吃饭、购物等等(完全名单请点击此链接),每在一个"新"的合作伙伴消费,就可以获得1000达美奖励里程。奖励里程将于60天之内打入你的账户。所谓的"新"的定义是:你在2017年1月1日至2017年10月17日之间,没有在这家合作伙伴进行过任意消费。
请一定要在消费之前前往活动网站注册。本次活动必须是收到邮件的用户才能参与。
【活动时间】
2017年10月16日至2017年10月17日
【活动网站】
http://bit.ly/2xdkeeX
【活动条款】
Member eligibility: This is a private offer is exclusively for selected SkyMiles members who receive the promotional email. Offer is not transferable to other members.
Offer Registration: Offer registration is required. To register, eligible members need to visit the dedicated landing page and register with their SkyMiles number.
Offer: Registered SkyMiles members will earn a bonus of 1,000 miles for every new participating partner they earn miles with between October 16, 2017 and December 31, 2017 up to a maximum of 25,000 bonus miles per member. The term "New" refers to a partner the member has not earned miles with during the period January 1, 2017 to October 17, 2017.
Participating Partners:   The following non-airline partners are participating in this offer: SkyMiles Credit Card Partners, Hotels & Airbnb, Car Partners, SkyMiles Cruises, Retail and Specialty, Financial Partners, SkyMiles Shopping and SkyMiles Dining.  For a list of partners, please click here. Airline partners, Delta Vacations, Gilt, Points.com and Biscoff are expressly excluded from this offer.
Airbnb Terms: Visit deltaairbnb.com for full terms and conditions of this offer.
Lyft Terms: Visit delta.com/lyft for full terms and conditions of this offer.
Eligibility of Transactions: Only accrual partner transactions with an activity date between October 16, 2017 and December 31, 2017 will be considered for this bonus. Activity date is defined as the date of the transaction as reported by the partner regardless of the date the transaction is posted in the member's account. Some partners offer multiple ways to earn miles under different products, brands, conversion of currency to miles, etc. These will still be considered as a single partner. Some examples of these cases are: Hotels booked via delta.com Hotels, hotel brands under the same Hotel portfolio, stay activity and a points conversion to miles from the same partner and others.
Please allow up to 60 days after the qualifying transaction for bonus miles to be added in your account.
Delta may change the SkyMiles program rules, change or terminate program partners, regulations, benefits, conditions of participation or mileage levels, in whole or in part, at any time with or without notice, even though changes may affect the value of mileage already accumulated. This offer may be terminated by Delta at any time, with our without notice. All SkyMiles program rules apply to SkyMiles program membership, miles, offers, mile accrual, mile redemption, and travel benefits. Offers void where prohibited by law. Other restrictions may apply. To review the rules, please visit delta.com/memberguide.
Delta, SkyMiles, and the Delta logo are registered service marks of Delta Air Lines, Inc.
Promotional Reference Code: To enquire about this offer, please refer to code 179004 when contacting any Delta customer service representative.